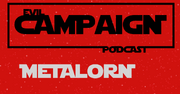 Evil Campaign is a secondary series of Campaign, following the adventures of antagonists Minister Blue, Agent Zero, Commander Synox, and Aava Arek on Blue's ship The Bluebird.
More modular than the main campaign, this series will be GM'd by both Kat Kuhl and James D'Amato and not all missions will involve all party members.
Evil Campaign chronologically starts a week before the events of Campaign Prologue episodes.
Evil Metalorn Arc
Evil Mandalore Arc